(3)
Upcoming events: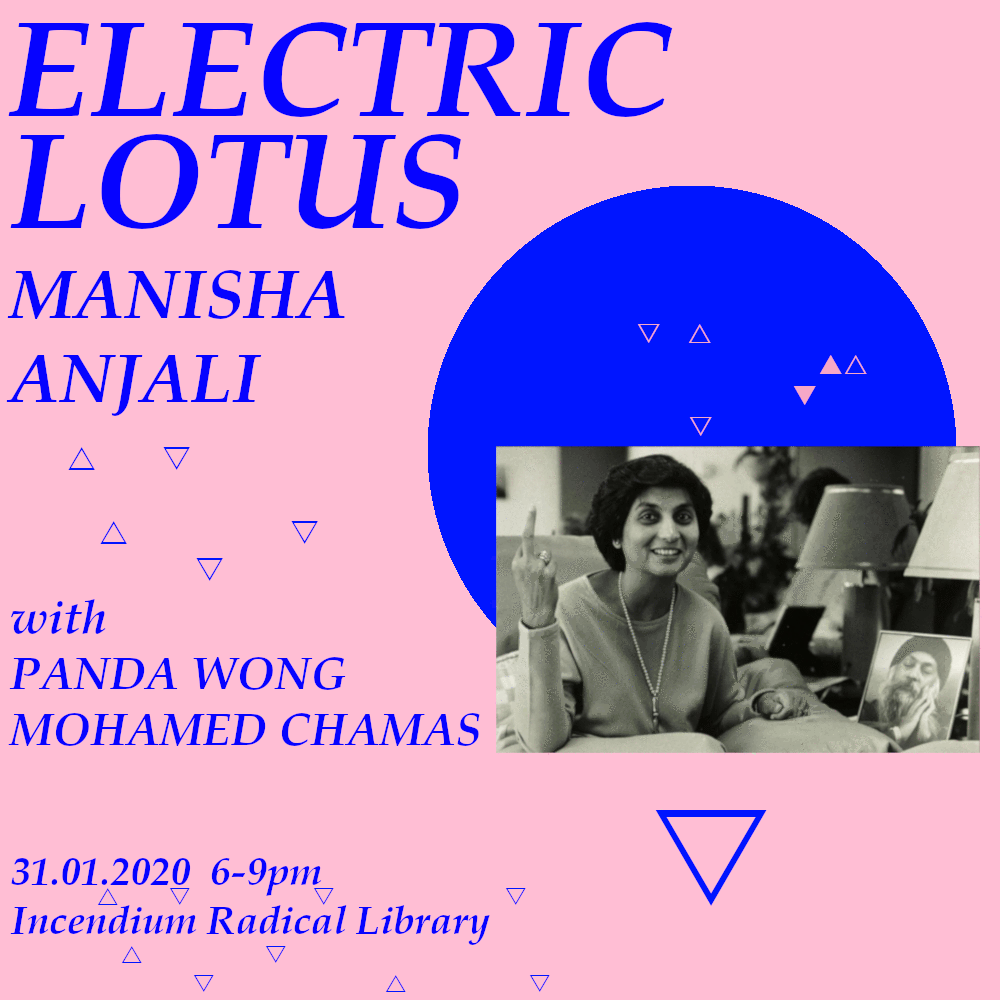 ELECTRIC LOTUS BY MANISHA ANJALI

CHAPBOOK LAUNCH

with

PANDA WONG

MOHAMED CHAMAS

Electric Lotus is an inquiry into the 'ecstatic'–is it synthetic, manic or electric? It blooms in the naked recitations of the wandering mystic Lal Ded, in the animal and flower companions of the saint Akka Mahadevi, in the throat of the playback singer Asha Bhosle, in the indigo devotion of the cult star Ma Anand Sheela. Electric Lotus is an interactive text for play and performance.

Electric Lotus is published by Incendium Radical Library Press. It was composed during IRL's 2019 Summer Residency.

Manisha Anjali is a writer and artist. She is the producer of Neptune: a dream archive. Manisha has exhibited at Bus Projects, c3 contemporary art space, SEVENTH Gallery, Melbourne Writers' Festival, Queensland Poetry Festival and Emerging Writers' Festival. Manisha is the Poetry Editor at The Lifted Brow.

Mohamed Chamas is an artist, game developer and poet. Their practice currently explores synergies and reflections between mysticism and modern technology. Using the notion of 'dijital' (djinn + digital) art creation, Chamas summons spaces that re-configure socio-political ways of being and knowing, particularly of the oriental body.

Panda is a poet, writer and living personification of the phrase 'I'm baby'. She lives/works on unceded land. Her DnD alignment is Chaotic Neutral but her poetry probably verges on Chaotic Evil.


This event takes place on the stolen lands of the Wurundjeri and Bunurong peoples of the Kulin Nation. Sovereignty was never ceded.




Incendium Radical Library is holding our 4th Summer writers' residency!

The residency provides :

- Your own work space in the library, accessible 7 days a week
- The opportunity to run a workshop, reading group or related event at the library
- The work you have produced during the residency to be published with IRL press
- A launch for the work you have produced during the residency
- Promotion for the launch, workshops and work produced
- Your work to be archived in the library
- Use of the library resources, including the zine and journal archives, internet and kitchen

There is no set time for the residency as it can be negotiated with the successful applicant. The resident will be welcome to start from after the 15th of February. The residency is set for a month but this is also negotiable if more time is needed.

The residency and all associated events are free. Practical organising, advertising, catering for events, and documentation of the work, will be taken care of by the library collective.

It is expected that you will spend at least two days per week in the library, and produce a body of work by the end of the month. You will also be expected to run a workshop, reading group or related event during the month.

Applications should include:

- Why you think the residency would be useful for you
- Examples of your work
- What you would work on, what kind of event you might run
- a short biography
- At what time you would like commence the residency

Our writers in residence for 2019 were Saaro Umar and Manisha Anjali who both have upcoming publications with the Library.

Please send applications to
incendiumradicallibrary@gmail.com

Submissions close midnight, 8th of February, 2020.
The successful applicant will be notified by the 15th of February.

Updates will be posted on instagram, facebook and on our website, and we will notify the successful applicant by email.

IRL info shop (where the library is housed) is used during the week for events and open some weekends for the public. Over the course of the residency the space can be used during opening hours but may not be available for use during events. The writer in resident will be notified of when the space has been booked, in advance.

IRL is wheelchair accessible, has overhead lighting and lamps, and sturdy seating. If you have any concerns or questions regarding accessibility please let us know.

If you have any questions regarding the residency please feel free to email us at incendiumradicallibrary@gmail.com.

IRL is situated on the land of the Wurundjeri & Bunurong peoples of the Kulin Nation. We stand on this land as beneficiaries of an uncompensated and unreconciled dispossession which began over 200 years ago and continues today.



Past events: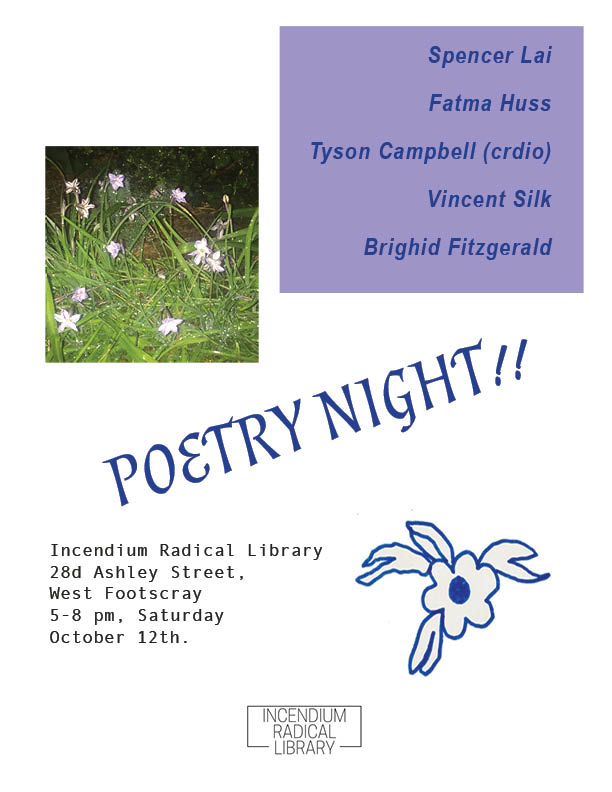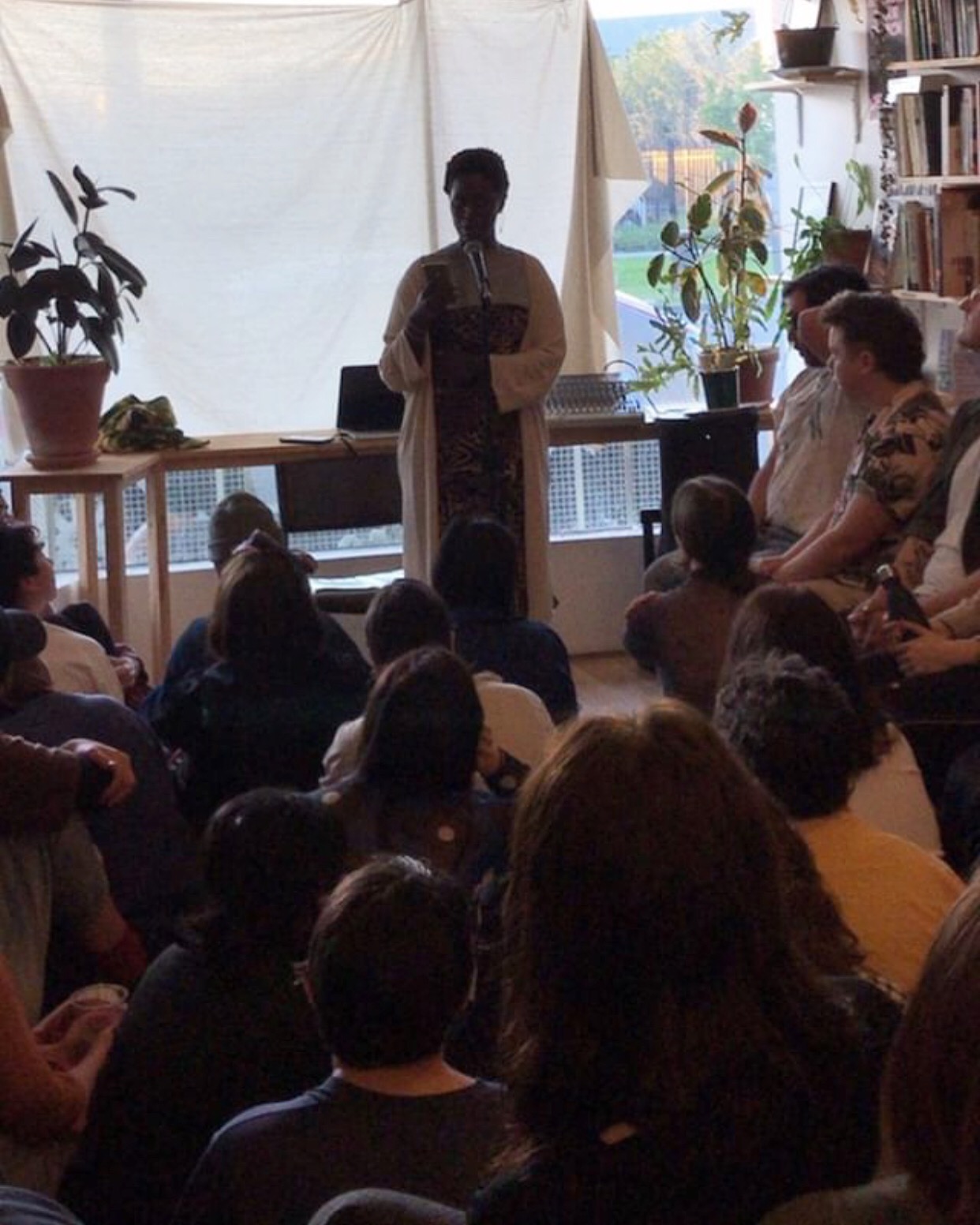 Readers at the Spring Poetry Night
Saaro Umar's writers workshop held during her writers residency at the library 10/8/19.
Manisha Anjali's surrealist writing workshop held during her writers residency at the library, 2019.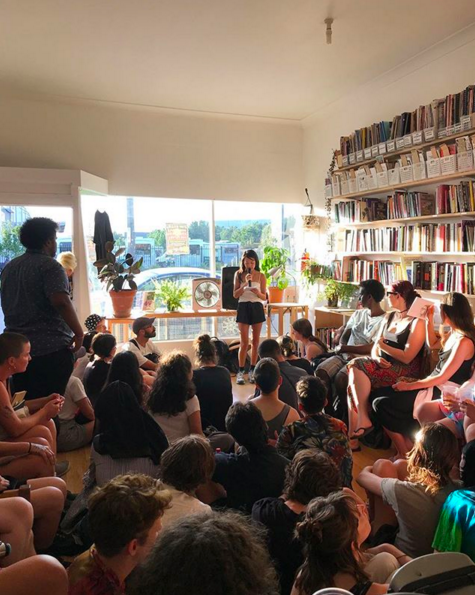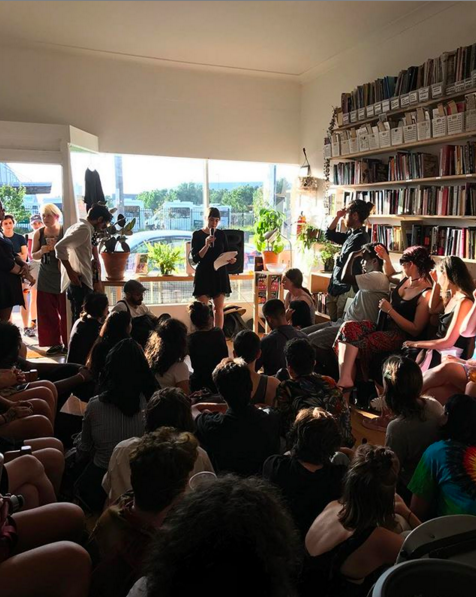 Poetry night with Manisha Anjali, Autumn Royal and Chi Tran, Feburary 2019.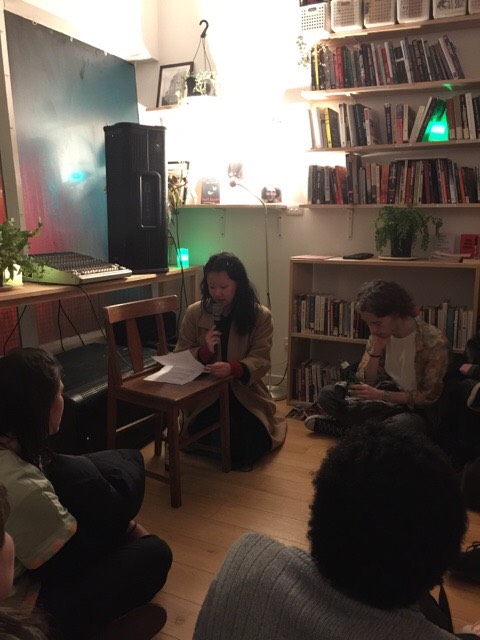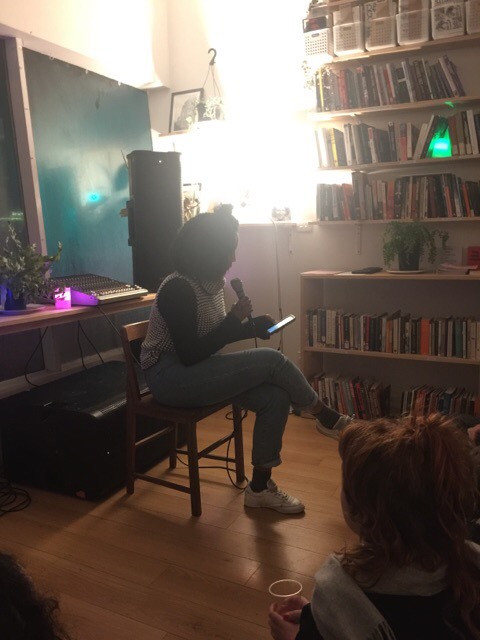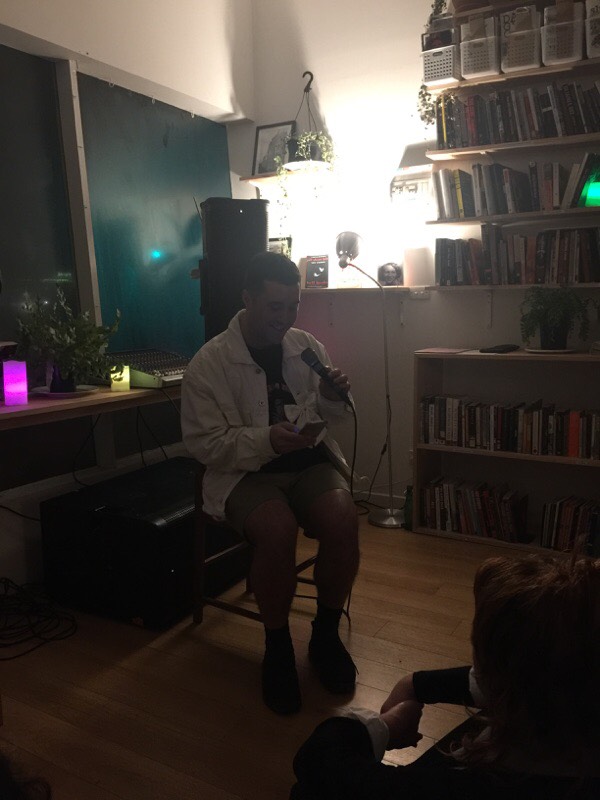 Poetry reading- Lei Lei Kung, Saaro Umar and Tyson Campbell and Frankie Hanman-Siegersma 20/7/18
New Space Party!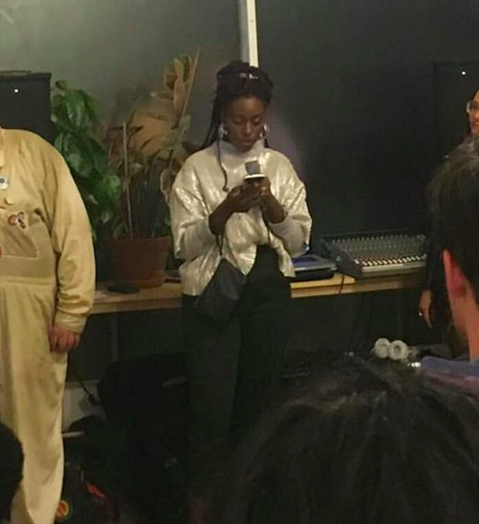 Library new space party with readings from Panda Wong, Fatma Huss and Chi Tran and Pope Fred.
Incedium Library residency at the Norma Redpath house with
The Sleepover Initiative.
Thank you everyone who made it last night to Chi's launch of "I occupy space, which is to say, i am always grieving". Huge thank you to WestSpace gallery for giving up the space and Atong Atem and Miss Darius Le who also performed, and also Chi for being the best first writer in residence we could have hoped for. Nearly all the booklets have sold out but let us know if you would like to purchase one as we are doing another run of copies!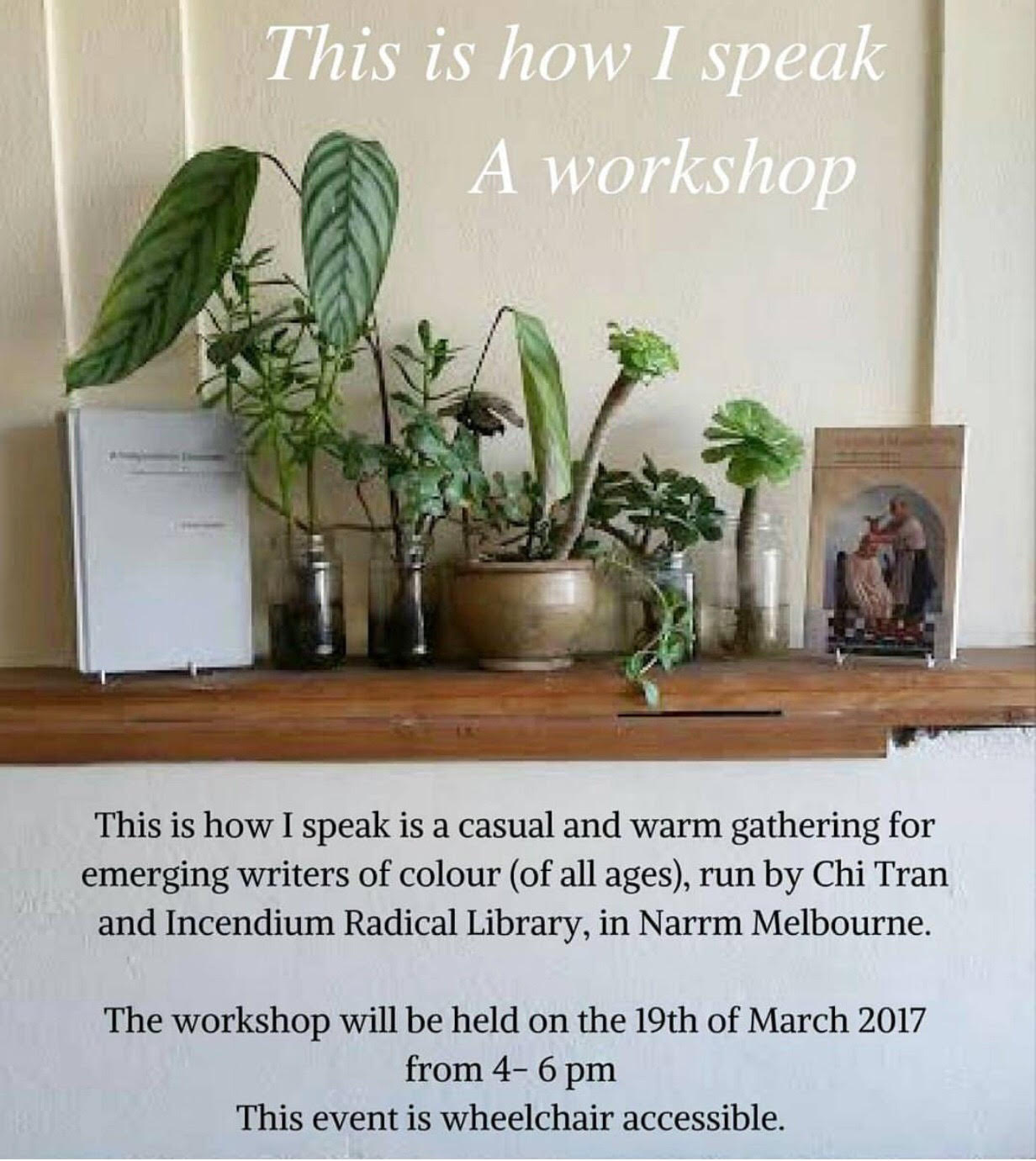 This is how I speak, a workshop held by Chi Tran as part of their 2017 summer writers residency at the library.
Chi Tran our Summer 2017 writer in residence.
Poetry night with Atong Atem, Nam Chi Tran and Anupama Pilbrow, 5/ 2/17.